Introduction
Introduction to Transplant Care

Non-communicable (chronic) diseases (NCDs) impose a substantial burden on health-care systems, economies, quality of life, employment status and social activities1
Chronic Kidney Disease

700 million Estimated global prevalence of CKD2

~735,000 Deaths globally due to CKD3

151-232/million population Estimated Prevalence of ESRD in India4

1.5 billion Estimated global prevalence of chronic liver disease5

2 million global liver disease–related deaths5

259,749 liver disease deaths in India6

18.3% Global liver disease - related deaths in 20157
Organ transplantation could be the best therapy for terminal and irreversible organ failure8
Organ transplantation
improves patient survival1
improves quality of life1
has a beneficial impact on public health and the socio-economic burden of organ failure1
Renal transplantation increases patient survival over dialysis9
References:
Vanholder R, Domínguez-Gil B, Busic M, et al. Organ donation and transplantation: a multi-stakeholder call to action. Nat Rev Nephrol. 2021;17(8):554-568. doi:10.1038/s41581-021-00425-3
Cockwell P, Fisher LA. The global burden of chronic kidney disease. Lancet. 2020 Feb 29;395(10225):662-664. doi: 10.1016/S0140-6736(19)32977-0. Epub 2020 Feb 13.
Lozano R, Naghavi M, Foreman K, Lim S, Shibuya K, Aboyans V, et al. Global and regional mortality from 235 causes of death for 20 age groups in 1990 and 2010: A systematic analysis for the global burden of disease study 2010. Lancet. 2012;380:2095–128
Modi G, Jha V. Incidence of ESRD in India. Kidney Int. 2011;79:573
Moon AM, Singal AG, Tapper EB. Contemporary epidemiology of chronic liver disease and cirrhosis. Clin Gastroenterol Hepatol 2020;18:2650-2666
Mishra D, Dash KR, Khatua C, et al. A Study on the Temporal Trends in the Etiology of Cirrhosis of Liver in Coastal Eastern Odisha. Euroasian J Hepatogastroenterol. 2020;10(1):1-6. doi:10.5005/jp-journals-10018-1312
Mokdad AA, Lopez AD, Shahraz S, et al. Liver cirrhosis mortality in 187 countries between 1980 and 2010: a systematic analysis. BMC Med 2014;18:145
Grinyó JM. Why is organ transplantation clinically important?. Cold Spring Harb Perspect Med. 2013;3(6):a014985. Published 2013 Jun 1. doi:10.1101/cshperspect.a014985
Kaballo MA, Canney M, O'Kelly P, Williams Y, O'Seaghdha CM, Conlon PJ. A comparative analysis of survival of patients on dialysis and after kidney transplantation. Clin Kidney J. 2018;11(3):389-393. doi:10.1093/ckj/sfx117
About Transplantation
About Transplantation1
Transplantation is a surgical procedure in which tissue or an organ is transferred from one area of a person's body to another area, or from one person (the donor) to another person (the recipient).1
Types of Transplant1
Autograft: Using one's own tissue
Allograft: Transplant of an organ between two genetically non identical individuals
Isograft: Transplant of organ/tissue from a donor to genetically identical recipient
Xenograft: Transplantation of organ/tissues forms one species to another
Domino transplant: A combined heart-lung transplant performed in a patient with end-stage lung disease, but who still has adequate heart performance. The recipient's original heart is transplanted into another recipient in the need of one
Transplantation in India2,3,4,5
In May 1965, the first ever human organ (kidney) transplant in India was conducted at the King Edward Memorial Hospital, Mumbai.2
The living kidney transplantation program in India is currently the second largest program in numbers after USA3
61,821 organ transplants performed between 2013 and 20194
As of 2019, there were 550 transplant centres registered with state authorities and 140 non-transplant organ retrieval centers5
References:
Job, K. , Antony, A. . Organ Donation and Transplantation: "Life after Death". In: Tsoulfas, G. , editor. Organ Donation and Transplantation - Current Status and Future Challenges [Internet]. London: IntechOpen; 2018 [cited 2022 Apr 07]. Available from: https://www.intechopen.com/chapters/62192 doi: 10.5772/intechopen.76962
Acharya V N. Status of renal transplant in India--May 1994. J Postgrad Med 1994;40:158.
Shroff S. Current trends in kidney transplantation in India. Indian J Urol. 2016;32(3):173-174. doi:10.4103/0970-1591.185092
Kute VB, Godara S, Guleria S, et al. Is it Safe to Be Transplanted From Living Donors Who Recovered From COVID-19? Experience of 31 Kidney Transplants in a Multicenter Cohort Study From India. Transplantation. 2021;105(4):842-850. doi:10.1097/TP.0000000000003609.
Ramesh V, Pal C. Organ Donation and Transplantation in India in 2019. Exp Clin Transplant. 2021 Dec;19(12):1313-1321. doi: 10.6002/ect.2021.0105. Epub 2021 Oct 19.
Prevalence
Transplant in 2019
Global Data1
153,863
Organs Transplanted in 20191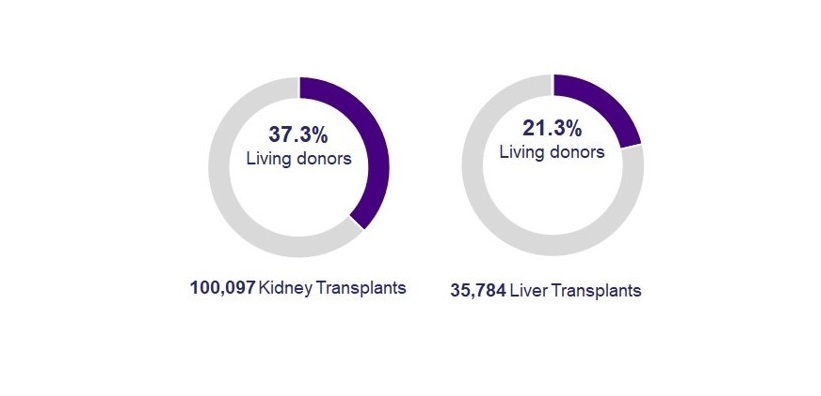 Transplant in India2,3,4
220,000 patients require kidney transplantation annually2
~ 30,000 patients require liver transplantation annually3
12,666 Organs Transplanted in 20194
Total number of Organ transplantations in India in 20194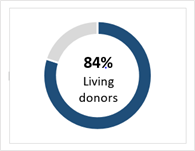 Patient Support Program Highlights
Patient Support Program Highlights1,2,3
Rejection is the major barrier to successful transplantation1
Progress in our understanding of the immunobiology of rejection has been translated to the development of immunosuppressive agents2
Modern immunopharmacological interventions have contributed to the clinical success observed following transplantation2
In solid organ transplantation the induction of immunosuppression in the early phase is required to2

Prevent graft rejection
Improve graft and patient survival
Improve overall patient quality of life
>90% graft survival one-year post transplantation with immunosuppressant
With the immunosuppressive drugs, one-year graft survival now exceeds 90% in most centres3
We at Viatris support needy patients to get the Tacrolimus and Everolimus level testing to maintain healthy graft and intern improve QOL.
References:
Wood KJ, Goto R. Mechanisms of rejection: Current perspectives [Internet]. Transplantation. U.S. National Library of Medicine; [cited 2022Apr20]. Available from: https://pubmed.ncbi.nlm.nih.gov/22138818/
Hartono C, Muthukumar T, Suthanthiran M. Immunosuppressive drug therapy. Cold Spring Harbor Perspectives in Medicine. 2013;3(9).
Afzali B, Lechler R, Lombardi G. Graft rejection: Immunological suppression. Encyclopedia of Life Sciences. 2010.
Product Portfolio
Viatris and Immunosuppressants
Viatris offers a wide range of immunosuppressant for the prevention of organ transplant in patients who have had a renal or liver transplant.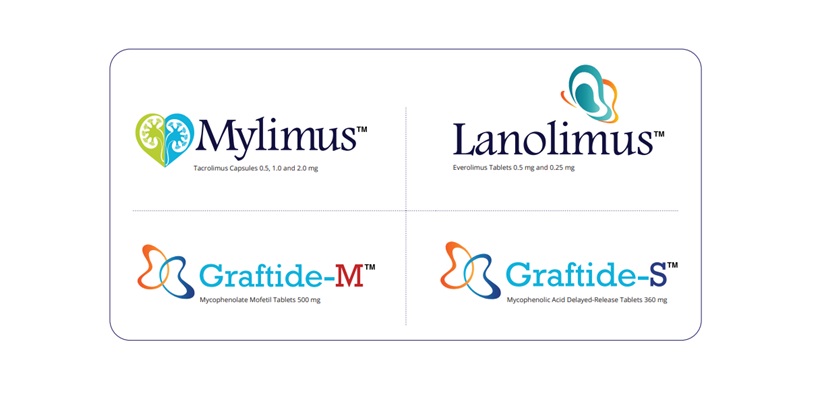 Graftix Division Introduction
Immunosuppressant (IS) Introduction:
Viatris Transplant Care business redefines the healthcare landscape by planting hope and life in millions of patients
Graft rejection is the major barrier to successful transplantation1. Viatris in collaboration with strategic partners and sales and marketing efforts helps patients to access quality medicines on time and at an affordable rate.2
The Viatris India transplant care division strives to empower individuals to live life minus the fear of graft failure by optimizing immunosuppressant balance. Our dedicated patient support program adds an edge to the care that we extend.
Our immunosuppressant range of products:
Mylimus® (Tacrolimus)
Lanolimus® (Everolimus)
Graftide M® (Mycophenolate mofetil)
Graftide S® (Mycophenolate sodium)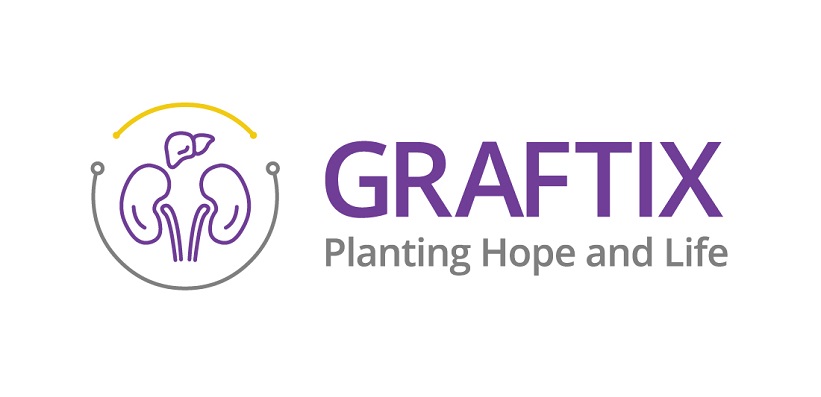 References:
Wood KJ, Goto R. Mechanisms of rejection: current perspectives. Transplantation. 2012 Jan 15;93(1):1-10.
Viatris: Global Healthcare Company. Available at: https://www.viatris.com/en. Accessed on: 22 February 2022.